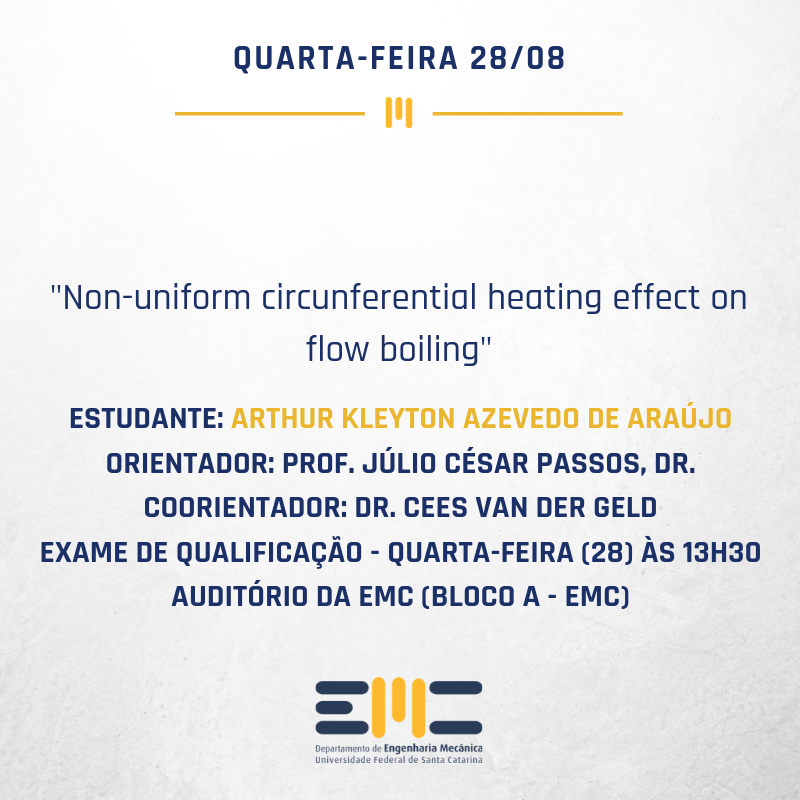 Defesa "Non-uniform circunferential heating effect on flow boiling"
O estudante Arthur Kleyton Azevedo de Araújo, que em breve viajará para a Holanda para realizar período sanduíche de seu doutorado na Technical University of Eindhoven, é orientado pelo Prof. Júlio César Passos, Dr. e coorientado pelo Prof. Cees Van Der Geld, Dr. (Technical University of Eindhoven – TU/e). Ele defenderá seu exame de qualificação na próxima quarta-feira (28/08) às 13h30min no Auditório da EMC. A defesa é vinculada ao Programa de Pós-Graduação em Engenharia Mecânica. O auditório tem capacidade para 64 pessoas.
Título: "Non-uniform circunferential heating effect on flow boiling"

Resumo:
Concentrated Solar Power (CSP) as an energy source is a clean and renewable alternative to fossil fuels, whether for electricity production or process heat. Linear Fresnel Reflectors (LFR) for CSP has the potential to reduce production costs compared to parabolic trough technology, allied to Direct Steam Generation (DSG) this possibility is even greater. These technologies combination brings complexity to the generation systems. The non-uniform radiation distribution on tube perimeter is a particularity of trapezoidal absorber typically used in LFRs without secondary reflectors. These conditions combined influence the two-phase flow thermal hydraulic behavior and, therefore, should be evaluated carefully. This qualify exam presents a literature review on flow boiling regarding flow patterns, heat transfer, pressure drop, and identification of dry-out inception. This work allowed to identify the gaps to be filled in the literature, mainly due to the asymmetrical heating condition, and the research thresholds. Thus, it is proposed a versatile and flexible test rig which allows the analysis for uniform and non-uniform heating conditions. It is expected to validate the experimental facility for single-phase flow of water and then conduct experiments with adiabatic and diabatic two-phase flow. The results have both academic and industrial appeal, contributing to the literature when evaluating asymmetric heating conditions on flow boiling, and technological development of clean and renewable energy generation in addition to other applications.
Palavras-chave: horizontal flow boiling; two-phase flow; flow patterns; dryout.