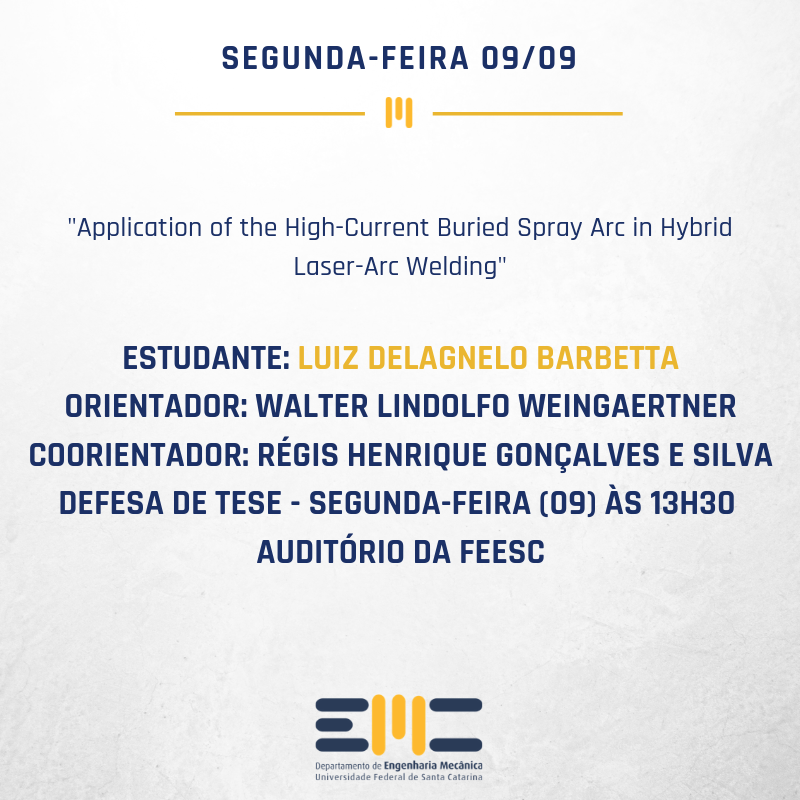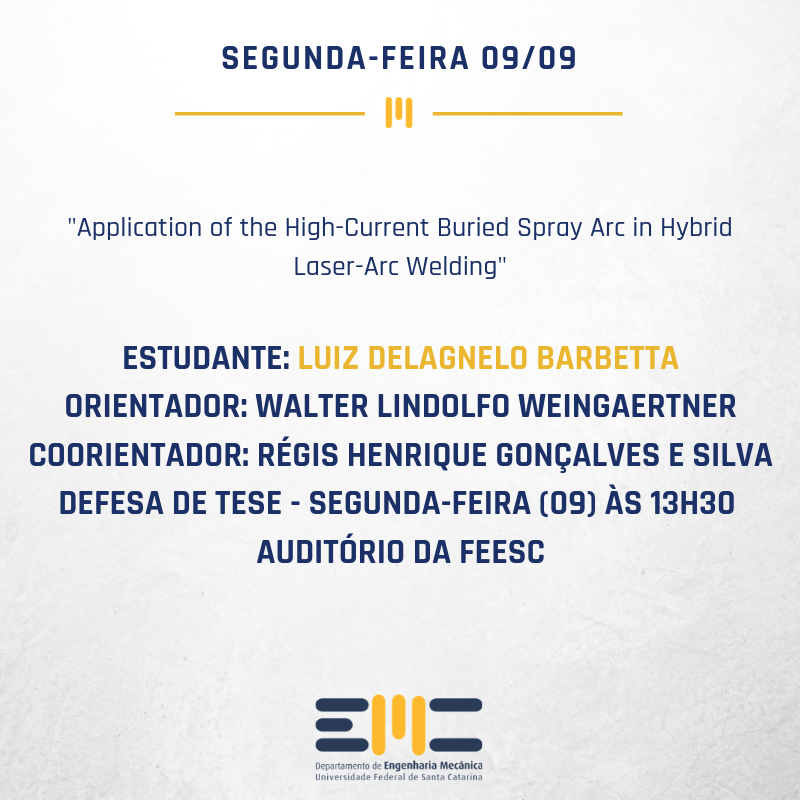 Defesa "Application of the High-Current Buried Spray Arc in Hybrid Laser-Arc Welding"
O estudante Luiz Delagnelo Barbetta, orientada pelo Prof. Dr.-Ing. Walter Lindolfo Weingaertner e coorientado pelo Prof. Régis Henrique Gonçalves e Silva, Dr. Eng., defenderá sua tese na próxima sexta-feira (13/09) às 9h no Auditório da FEESC. A defesa é vinculada ao Programa de Pós-Graduação em Engenharia Mecânica. O auditório tem capacidade para cerca de 40 pessoas.
Título: "Application of the High-Current Buried Spray Arc in Hybrid Laser-Arc Welding"
Resumo
In arc welding, the arc pressure rises as the arc length is reduced, leading to a deeper depression on the molten pool surface. If enough current and a stability assuring technique are provided, the arc length can be so drastically reduced, that most or the entirety of the arc is confined below the original workpiece surface – the arc is buried. Welding under this condition has some advantages, such as increased penetration, reduced spatter, regularity at higher welding speeds and welding of narrower grooves, and it can be applied for globular, (forced) short-circuiting, pulsed and spray transfer modes. When applied to HLAW, the deep pool depression decreases the effective plate thickness to be penetrated by the laser beam, allowing lower power cheaper laser sources to be used or, conversely, to perform deeper or faster welds with the same laser power output. Despite this advantage, the application of the buried arc in HLAW has been poorly studied, especially in the spray transfer mode, which would allow higher currents and a more stable molten pool, potentializing the buried arc effect. The present work has studied the applicability of the high-current buried spray arc in HLAW to find how much penetration potential is added to the process when compared to a conventional spray HLAW. Other possible advantages of the process were also evaluated, including the deeper arc influence on the weld, leading to suspected improvement against solidification crack susceptibility and better distribution of the filler metal along the weld depth. The possible difficulties on the buried spray arc HLAW process application were also discussed. Of high importance is the humping discontinuity formation, which is a common problem for highcurrent arc welding, and the frontal buildup phenomenon of molten metal piling up in front of the molten pool for a pushing torch condition. Laser-arc interaction for these unprecedented conditions was also studied.
Palavras-chave: laser, welding, hybrid, buried arc, GMAW, HLAW